Two new books in the SpongeBob SquarePants series
Two more books about the most yellow children's favorite - SpongeBob SquarePants - are now on the market!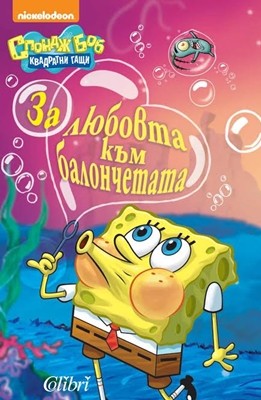 "For the Love of Bubbles" (Hummingbird Publishing House, 64 pages, price: BGN 5) is among the wackiest and most unimaginable stories about SpongeBob SquarePants! Yes, no mistake, in this book your favorite underwater sponge temporarily loses his identity and even becomes the mayor of New Kelp City! When he comes to, he cannot remember who he is or where he lives. As SpongeBob searches for his lost identity, Patrick and Sandy set out to find their best friend. And when one thinks that the love of bubbles is to blame for everything...
"P
Bikini Bottom's Irates' (Kolibri publishing house, 64 pages, price: BGN 5) is an incredibly fascinating book with many twists, adventures and laughter! SpongeBob tries to cheer up Mr. Crab, who dreams of sailing the six seas again. He and Patrick transform the Crunchy Crab to look like a ship. Won't you, three creepy pirates show up and hijack the restaurant! Now it's a real mess.
SpongeBob SquarePantsSpongeBob SquarePants is an American animated television series created by marine biologist and animator Stephen Hillenberg. The films tell funny and strange stories about the eponymous character and his friends who live in the underwater city of Bikini Bottom. The scripts are the work of a team of professionals: Stephen Hillenberg, Mr. Lawrence, Paul Tibbitt, Dan Povenmire, Derek Drymon and Stephen Banks. The first film in the series was broadcast on May 1, 1999. About 50 people work together to animate and produce an episode.
Over the years, the popularity of the series gave her privileged positions in the media, and the number of licensing contracts began to grow exponentially. The series has the highest ratings of any series broadcast on Nickelodeon. From a financial standpoint, SpongeBob SquarePants is MTV Networks' most successful project. Franchising has generated $8 billion in revenue for Nickelodeon.
Curious! SpongeBob was originally called Sponge Boy, and the series would be called SpongeBoy Ahoy! (Hello SpongeBob!) but then they changed the name and today SpongeBob SquarePants is a trademark.
Awards: The series has won a variety of awards, including 6 Annie Awards, 8 Golden Roll Awards, 2 Emmy Awards, 12 Kids' Choice Awards and 2 BAFTA Children's Awards.
The content of the books in the SpongeBob SquarePants series follows the content of the movies. The project of MTV and their specialty channel Nickelodeon, who are also behind the famous Dora the Explorer series, is among the most watched and discussed children's series in recent years. The stories are extremely funny, entertaining and educational and are suitable for children aged 3 to 10 years.
FIND US ON FACEBOOK: